MAG Silver Reports Silver/Lead/Zinc Intercepts at La Esperanza Project
278 g/t (8.1 opt) Silver, 2.8% Lead and 5.8% Zinc over 2.42 Metres
Vancouver, February 22, 2012 - Canasil Resources Inc. (Canasil, TSX-V: CLZ"Canasil") announces that MAG Silver Corp. (TSX: MAG, NYSE-A: MVG, "MAG") has reported significant silver/lead/zinc vein intercepts in the first three diamond drill holes of MAG's exploration program at the La Esperanza silver project in Durango and Zacatecas States, Mexico. MAG is earning a 60% interest in the project from Canasil. The holes were drilled on one section 100 metres North West along strike from previous drilling carried out by Canasil on the main La Esperanza vein system (see attached figure).
The best results are reported in the deepest hole ES12-03, which intersected a 10.28 metre (8.22 metres true width) section of quartz vein and breccia assaying 97 grams per tonne ("g/t") silver (2.8 ounces per ton ("opt")), 1.1% lead and 2.3% zinc. Within this zone there is a higher grade interval reporting 278 g/t (8.1 opt) silver, 2.8% lead and 5.8% zinc over 2.42 metres. Hole ES11-02, drilled above the previous hole, intercepted 12.53 metre (10.1 metres true width) wide breccia laced with intermittent veins that carried higher grade intervals of 87 g/t (2.5 opt) silver, 0.8% lead and 2.4% zinc over 4.01 metres, including 192 g/t (5.6 opt) silver, 1.8% lead and 5.7% zinc over 1.49 metres. Near-surface hole ES11-01 hit three narrow intercepts with appreciable silver values ranging from 43 g/t (1.3 opt) to 74 g/t (2.2 opt), lead from 0.2% to 0.6%, and zinc values from 1.0% to 1.9% over 0.85 metres to 0.86 metres (see table below).
Bahman Yamini, President and CEO of Canasil commented: "We are very pleased with MAG's active exploration program and progress on the La Esperanza project. Following the ZTEM airborne survey and surface sampling programs, and expansion of the project area with additional 50,000 hectares of claims, these initial positive drill intercepts are very encouraging. They confirm significant silver/lead/zinc mineralization over very favourable widths on a 100 metre step out from previous drilling on the La Esperanza vein structure, which has been traced on surface for almost 5 kilometres and is open in all directions. We look forward to further results from MAG's currently planned 4,000 metre drill program at the project."
Hole ID

From
(metres)

To
(metres)

Interval
(metres)

Gold
(g/t)

Silver
(g/t)

Silver
(opt)

Lead
(%)

Zinc
(%)

Copper
(%)

True Width
(Metres)

ES11-01

144.00

144.86

0.86

0.04

74

2.2

0.2

1.1

0.01

0.86

and

161.14

162.00

0.86

0.03

43

1.3

0.4

1.0

0.03

0.86

and

162.53

163.38

0.85

0.18

61

1.8

0.6

1.9

0.11

0.85

ES11-02

168.05

180.58

12.53

0.00

26

0.8

0.7

0.3

0.03

10.02

including

185.33

189.34

4.01

0.02

87

2.5

0.8

2.4

0.04

3.21

including

185.33

186.82

1.49

0.05

192

5.6

1.8

5.7

0.11

1.19

ES12-03

266.66

276.94

10.28

0.19

97

2.8

1.1

2.3

0.32

8.22

including

266.66

273.20

6.54

0.23

139

4.1

1.5

3.3

0.43

5.23

including

266.66

270.67

4.01

0.14

189

5.5

2.2

5.2

0.33

3.20

including

266.66

269.02

2.42

0.17

278

8.1

2.8

5.8

0.09

1.94
About La Esperanza:
The La Esperanza project covers 68,954 hectares, located within the Mexican Silver Belt in northern Zacatecas and southern Durango States. This recognized world class silver belt hosts a number of active mines such as Pan American Silver's La Colorada and First Majestic Silver's La Parrilla mines. The project covers multiple vein occurrences and alteration zones over a 20 kilometre strike length along a prospective SE-NW trend.
Canasil previously drilled nine diamond drill holes on the project for a total of 1,432 metres. This program outlined a mineralized panel with a strike length of over 150 metres and depth of 100 metres, which is open in all directions, with vein widths of up to 10.30 metres carrying high grade silver mineralization. Seven drill holes intersected the main Esperanza vein and a hanging wall vein over significant widths. The weighted average grade of mineralization intersected in the Esperanza vein is 330 g/t (9.62 opt) silver, 0.93% (18.60 lbs/ton) zinc and 1.57% (31.40 lbs/ton) lead over an average width of 4.21 metres. This vein includes several intercepts with very high silver grades of up to 2,144 g/t (62.53 opt) silver over 0.75 metres.
The project is under an option agreement whereby MAG can earn 60% interest by completing CAD$ 5,000,000 in cumulative exploration expenditures ($ 912,480 completed to December 31, 2011) by September 1, 2014, and making a further CAD$ 350,000 in cash payments to Canasil by September 1, 2013.
Qualified Person: Dr. Peter Megaw, Ph.D., C.P.G., Director of MAG, has acted as the qualified person as defined in National Instrument 43-101 for this disclosure and supervised the preparation of the technical information in this release. Dr. Megaw has a Ph.D. in geology and more than 20 years of relevant experience focused on silver and gold mineralization, and exploration and drilling in Mexico. He is a certified Professional Geologist (CPG 10227) by the American Institute of Professional Geologists and an Arizona registered geologist (ARG 21613). Dr. Megaw is not independent as he is a Director and Shareholder of MAG. Dr. Megaw is satisfied that the results are verified based on an inspection of the core, a review of the sampling procedures, the credentials of the professionals completing the work and the visual nature of the silver and base metal sulphides within a district where he is familiar with the style and continuity of mineralization.
About MAG Silver and Canasil:
MAG is a leading silver exploration and emerging development company in Mexico, with considerable experience and a very successful track record of high-grade silver discoveries in epithermal vein systems of the Fresnillo Silver Trend, as well as a number of other large development stage and exploration projects in Mexico.
Canasil is a Canadian mineral exploration company with interests in precious and base metal projects in Durango, Sinaloa and Zacatecas States, Mexico, and in British Columbia, Canada. The Company's directors and management include industry professionals with a track record of identifying and advancing successful mineral exploration projects. The Company is actively engaged in the exploration of its mineral properties.
For further information please contact:
Bahman Yamini
President and C.E.O.
Canasil Resources Inc.
Tel: (604) 709-0109
www.canasil.com
Neither the TSX Venture Exchange nor its Regulation Services Provider (as defined in the policies of the TSX Venture Exchange) accepts responsibility for the adequacy or accuracy of this news release.
La Esperanza Longitudinal Section, February 2012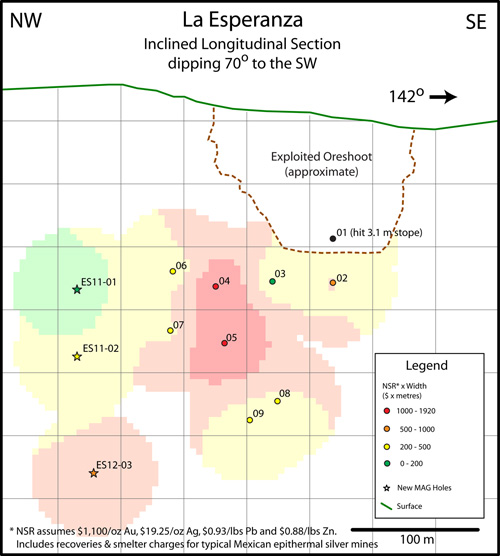 (Figure prepared by MAG Silver Corp.)