Canasil Resources Inc. - Update
March 1, 2007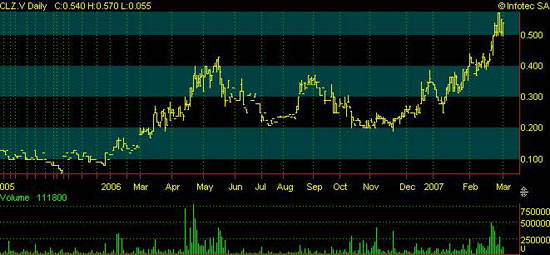 Canasil appears to be emerging from under the radar with the potential of the strong project portfolio in Mexico and BC, Canada, starting to be recognized. The Company had excellent results from the 2006 programs with the drill results from the Esperanza silver-zinc-lead project in Zacatecas and the geophysics and surface sampling from the Salamandra zinc-silver project in Durango, Mexico. The Salamandra project is in the early stages of exploration, but the geophysical signature and surface sampling and geology indicate the potential for a large mineralized system. Similarly the Brenda gold-copper project in BC has the signature of a very large porphyry mineralized system.
In addition Canasil is now well funded with the recent $1.6 million placement and cash coming in from the exercise of previously issued warrants. This will mean a very active exploration program in 2007, with around 8,000 metres of drilling and more geophysics on 5 different projects in Mexico and BC. There is good potential for some of these programs to return significant results. If that is the case it could reflect positively both on the share price and trading volumes. Of course at the end of the day, the mineral exploration business is a high risk high reward environment where there is little certainty, but the rewards from successful programs can be exceptional, and working on multiple projects and targets increases the odds.
Canasil is now completing a 3-step program to build the company with an exceptional management team (board and advisors and operating team are recognized as among the best in the industry), high potential projects (both Mexico and BC are very attractive mineral rich environments with political and economic stability, and the target minerals, silver-gold-zinc-copper, have good market strength), and finally strong funding to ensure an active program, which is now in place. This combination is making Canasil an increasingly attractive issue to be included as a high-risk high-reward element of an investment portfolio.